Last Updated on February 11, 2023 by Ellen
Check out these desk stretches for lower back pain you can do at work. And, find out how to get back pain relief at work with these tips.
Posts may be sponsored. This post contains affiliate links, which means I will make a commission at no extra cost to you should you click through and make a purchase. As an Amazon Associate I earn from qualifying purchases.
Since I shared about the best corner desk for a home office, I thought I'd share a bit more about making your office area comfortable and supportive.
As much as I love computer work, sitting in a chair all day is definitely not the best thing for my back.
Desk Stretches for Lower Back Pain
Whether you're sitting at home in your home office or at work for someone else, too much sitting can often leave you with lower back pain and stiffness. And, if you're sitting at a desk all day, chances are that's where your boss expects to see you.
It's not as easy to get up from your desk and take a walk or do something else for a while when you work for someone else or you're on a deadline. But, you can make changes to get back pain relief at work.
How do I remove lower back pain at my desk?
While you may not be able to get up and go for a walk, you can hopefully get up and stretch. Can you file papers, take a trip to the copy machine, drop something off in another area of the building? Or, go get a cup of coffee?
You should try to stand, stretch, and move for at least two minutes every 30 minutes of chair time.
How can I ease the pain of sitting at my desk?
Remember your posture. Many times when we have lower back pain, it's because we are slouching or have no support in the chair we're sitting in.
In this case, it's relatively simple to add some extra lumbar support to your office chair.  Adding a back relief lumbar pillow to your chair is one of the easiest things you can do.
Cushion Lab offers an ergonomic lumbar pillow that is designed to relieve back pressure and improve sitting posture. You can use it on any chair, sofa, recliner, or car seat.
It contours naturally against your back to improve your back and help relieve lower back pain from sitting. This along with these desk stretches can help quite a bit.
It has an adjustable strap so it's the perfect option for your desk chair. This lumbar pillow stays in place without slipping to provide relief all day.
Chair stretches for lower back pain
If you cannot get up and move around, try one of these desk stretches in your chair.
Sit down with your feet flat on the ground.
Put your hands on your lower back with your fingers down and your thumbs around your hips.
Press your hands firmly while you breathe in.
Then lower your head as you breathe out.
What is a simple stretch to relieve back pain?
This is one of my favorite desk stretches when I can't get up and move around the office.
While sitting, bring your knee slowly to your chest until you feel a stretch.
Hold for thirty seconds.
Release and repeat with the other knee.

How often should I do desk stretches?
If you cannot get up and move around easily, try these easy desk stretches every thirty minutes or so. When you do have a break or lunch, try heading outside for a brief walk rather than sitting.
More lumbar support
If you find that these ergonomic exercises for back pain aren't helping or you'd like to stop the pain and stiffness completely, try adding a back relief lumbar pillow to your office chair.
It comes in a variety of different colors and straps to your chair in just a few seconds. There are no other modifications needed.
And, it can be used at home in bed or while reclining watching television. It uses extra dense memory foam that always gives support even when you use it with something soft like a pillow or a mattress.
Together, these desk stretches and added back support should help make your office environment more comfortable.
Related Reading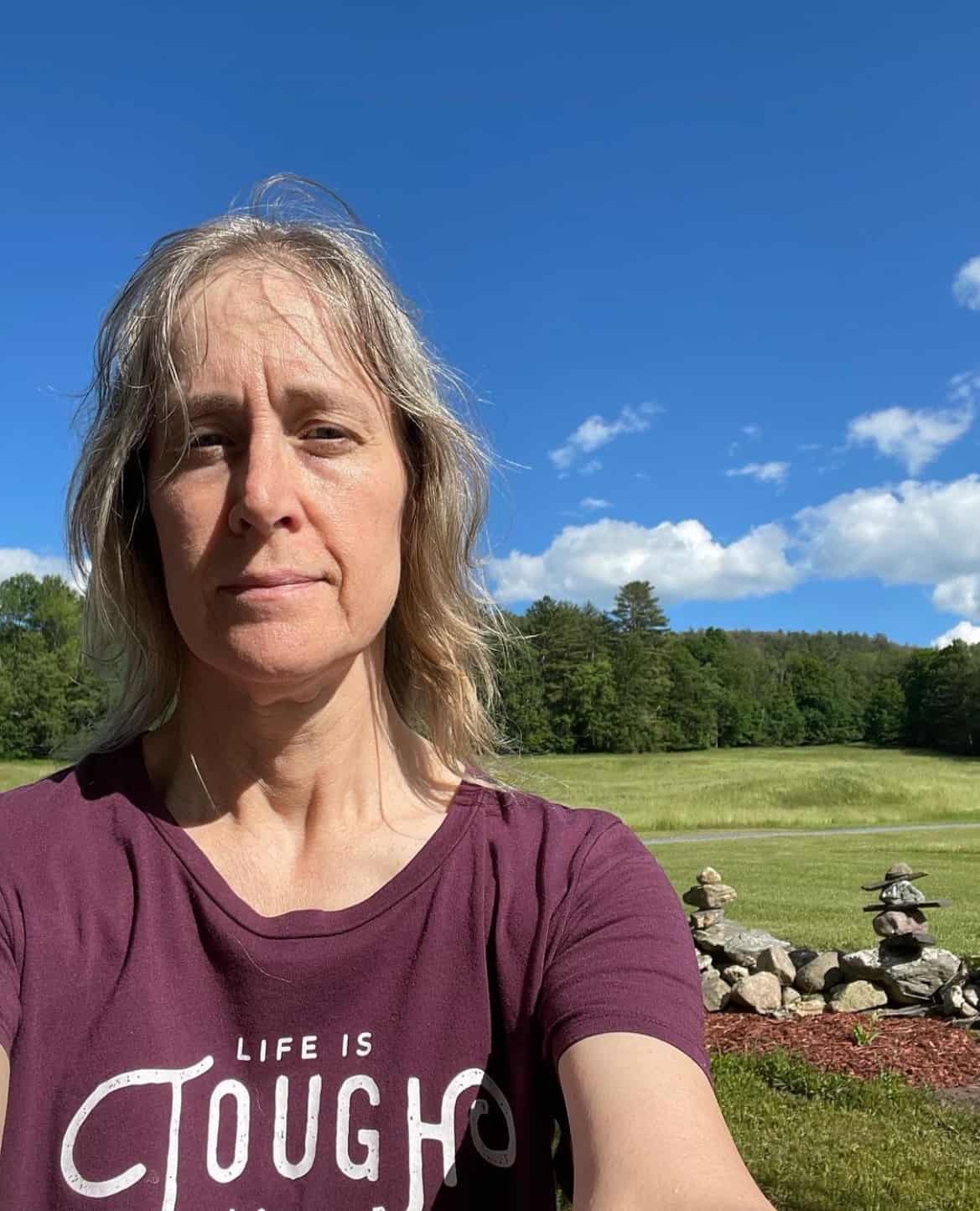 Professional blogger and social media addict. Sharing what's worked for me in my fourteen years of blogging. Tips and tricks for the non-technical blogger. If you'd like to work together, email info@ellenblogs.com to chat